ARUSHA TANZANIA WELCOMES YOU
Plan your visit to Arusha
Arusha is situated at the foot of the majestic Mount Meru. It is also known to be Tanzania's Northern Safari Circuit safari capital. It's bordered with Kenya which lies in the northeast with the Serengeti Plain laying in the northwest. In the south lies the Masai Steppe which is separated only by isolated gneiss hills.
Arusha is quite an interesting city with bustling crowds and a variety of markets, chaotic traffic and even colonial buildings. There are modern sites like coffee shops with Wi-Fi and a string of amazing restaurants. Arusha is seen as a major international diplomatic hub. It's also known to be called "The Geneva of Africa" since it's the de facto capital of the East African Community, hosting it as well. The city was the host of the International Criminal Tribunal of Rwanda since 1994.
Before Arusha's independency, it had its own history of conflict and colonisation. Back in 1896 while two missionaries were trying to convert the population to Christianity after settling there, they were murdered. In a response to this action the German military force took over the area. They did so by using brutal tactics on the local residents. Some were displaced and some were forced into slave labour. As a result of WWI, in 1916 the Germans were ejected from the area. Because of this many German occupants such as settlers, farmers and administrators were also deported and in 1916 the British took control of the area.
There are many attractions to visit and enjoy during a visit to Arusha.
Things to remember when visiting Tanzania
Documentation requirements
Applicants are required to provide personal information and travel details when completing the application form
Recent passport-style photo
A copy of the biographical page of the current valid passport
Copy of the return ticket
Requirements to enter Tanzania
On entry to Tanzania, eligible foreign citizens must present the following:
A printed copy of the Approved Visa and the Grant Notice Letter sent to the applicant's inbox
The Arrival Declaration Form must be completed and presented upon arrival
The same passport used for the online application form, valid for 6 months from the date of arrival
Visas
Tourists from most countries can apply for a Tanzania e-Visa. The online system makes applying for a visa quicker and more convenient for travelers.
Remember the visa requirements needed to enter Tanzania when booking for your flight.
Vaccinations
It is advisable to research which immune shots need to be taken before travelling to any new country. There are some recommended vaccinations needed before travelling to the African continent:
Yellow FeverUnder International Health Regulations, a certificate of yellow fever vaccination is required from travellers over 1 year of age arriving from countries with risk of yellow fever transmission, and for travellers having transited for more than 12 hours through an airport of a country with risk of yellow fever transmission. Please click here for a list of country requiring proof of Yellow Fever vaccination.
Polio
Typhoid
Diphtheria
Hepatitis A
Other precautionary shots you could take are tetanus and rabies shots. It is recommended to take these shots 3 months prior to your travel.
COVID-19 regulations - Please familiarize yourself with the latest Tanzania COVID-19 regulations.
Airports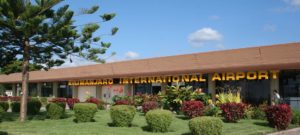 Kilimanjaro International Airport (JRO)
Kilimanjaro International Airport, between Arusha and Moshi, handles both domestic and international flights, and is the best option for itineraries in Arusha and the northern safari circuit. It is approximately a one hour drive from the event venue.
Arusha Airport
Small planes, mostly to the national parks, leave from Arusha Airport, 8km west of town along Dodoma Rd. This airport does not do international travel.
Jomo Kenyatta International Airport (NBO)
Jomo Kenyatta International Airport, is an international airport in Nairobi, the capital of and largest city in Kenya. Located in the Embakasi suburb 18 kilometres southeast of Nairobi's central business district, the airport has scheduled flights to destinations in over 50 countries. It is approximately five hour's drive from the event venue.
Julius Nyerere International Airport (DAR)
Julius Nyerere International Airport is the international airport of Dar es Salaam, the largest city in Tanzania. It is approximately eleven hour's drive to the event venue.
Zanzibar International Airport (ZNZ)
The Zanzibar Archipelago, located in the Indian Ocean 15 miles off the coast of Tanzania, is a breathtaking spot to escape from the world. The Zanzibar airport is located on this island.
Town Map