The 17th ICMDA World Congress will be held at the Arusha International Conference Centre (AICC).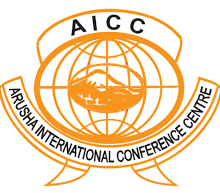 The AICC lies in the heart of Arusha city, half-way between Cape Town and Cairo, only a stone's throw away from Africa's greatest Mountain, Mt. Kilimanjaro, and the safari-gateway to the astounding wildlife of Ngorongoro Crater, the Serengeti, Tarangire and Lake Manyara National Parks.
The AICC has multiple meeting rooms from smaller breakout rooms to Simba Hall, the main auditorium, which seats 1,350 delegates.
All major rooms are fitted with modern conference equipment such as Simultaneous Interpretation Systems (SIS), multimedia (LCD) projectors and other audio-visuals. Across all meeting rooms the centre can host up to 2,500 delegates.
AICC hosts 100 meetings and 11,000 conference delegates each year thus contributing immensely to the socio-economic development of Arusha and the country at large.